Greetings of the Season!
We're excited to take our Holiday Tour 2017 as we sing with and for the folks at: Morning Star, Parkwood Estates, The Winslow, Rigden Farm, The Worthington, McKenzie Place, the Railroad Society, and Oakbrook II.
Please join us for The Garden of Lights performance on Friday, December 15th from 6:00-8:00pm.
An enchanted evening with glittering garden lights, hot chocolate and traditional holiday songs will make for a fun evening for you and your family.

Ho! Ho! Ho! Happy Holidays

About

Greetings!

We're the SunnySide Singers of Northern Colorado; We've been singing together since 2009 and loving every minute of it! We sing a variety of songs from the 1920's through the 1960's that you know and love! Our audiences always join in with singing and clapping…and sometimes dancing.


Our favorite audiences are seasoned seniors living in special places like The Worthington, The Winslow, The Wexford, Rigden Farms Senior Living Center, Parkwood Estates, and Lemay Avenue Health and Rehab Center. They welcome us back warmly several times each year!


Birthday Party Sing-alongs! We are now happy to say that we also joyfully join in to help celebrate birthdays for elders of all ages! Here's a testimonial from one of our celebrants who turned 102 this year!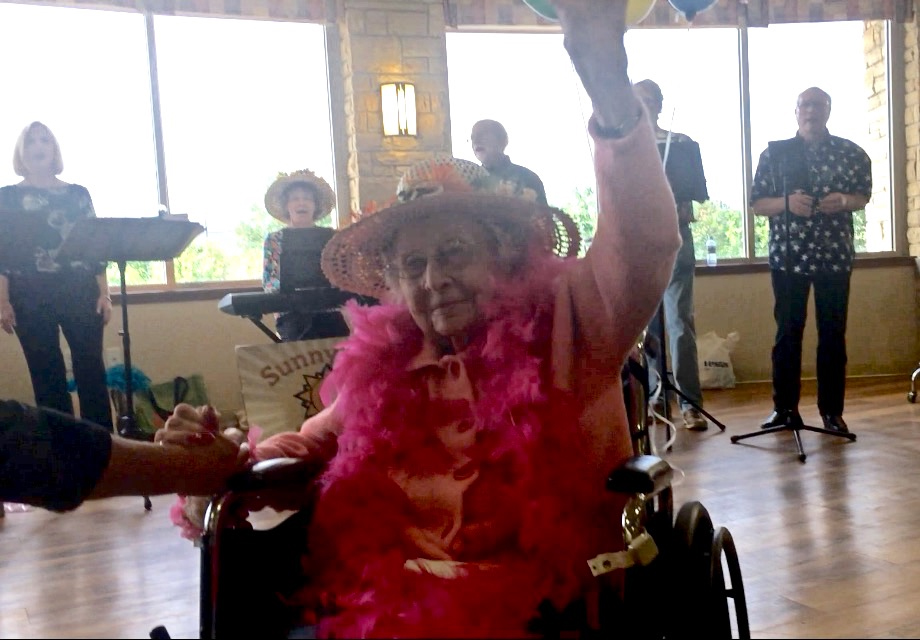 "The Sunny Side Singers helped make Bea's 102nd birthday party fun and special. We were so happy to have them help us celebrate her with songs and dancing with Art to the "Beer Barrel Polka". Bea and all the partiers thoroughly enjoyed their performance. We would definitely recommend them for any type of gathering."
--The Family of Bea Ducharme
Music

Sample Songlist:
| | | | | |
| --- | --- | --- | --- | --- |
| Keep On The SunnySide | Blue Moon | Country Roads | Down On The Corner | Crazy |
| You Are My Sunshine | Ruby | Bye Bye Love | Hey Good Lookin' | Marianne |
| Pistol Packin Mama | Silhouettes | Red Red Robin | Side By Side | Mame |
| This Land Is Your Land | Streets of NY | | | |

Our Members
Art Bavoso
A native New Yorker, Art has lived in Colorado for 35 years with his wife Johnna (our group's keyboardist), and has been playing bass guitar for several years. He is also our emcee.
Johnna Bavoso
A third generation Coloradoan, Johnna's first performance was singing the U.S. Marine Corps Hymn for her kindergarten class. She lives on the sunny side of life and loves playing keyboard.

Steve Price
Steve has lived in Colorado for 96% of his life. He has enjoyed making music since childhood and plays several instruments. He also enjoys performing with his SunnySide friends as we take music to people who might enjoy our version of retro/traditional/Americana fun.



Jennifer Kathol
Having grown up in Kansas and knowing her cousin Dorothy was swept away by a great tornado Jennifer moved to Colorado and turned her talents to environmental consulting and outdoor sports. She has been singing in the shower for most of her life and came out from under the water to join the SunnySide Singers.

Marsha Marberry
Left New Jersey to move to Colorado 37 years ago and has never looked back! Marsha grew up in a family that always sang and still is singing. Please welcome the newest member of our Sunny Side Singers.




Deni LaRue
She learned to talk then to sing and never stopped. For over 40 years she has sung whenever and with whomever she can in northern Colorado, but Deni's "home" group is the SunnySide Singers. That tall guy Steve in our group with the charming accent is her husband.
Jim O'Neill
Hails from Texas but never plans to leave Colorado. He plays acoustic guitar, adding a country music twist to our renditions.
Angie Swets
Born in Fort Collins' Poudre Valley Hospital, Angie was raised as a farm kid on the Poudre River near Timnath. Moved to Fort Collins and then realized that "You can take the kid out of the country but you can't take the country out of the kid." She's our Patsy Cline.
Loraleigh Waters
Loraleigh made her way to Loveland, Colorado in 1993 after growing up in northern New Jersey, living in California and Moscow, Russia, and travelling the US. Sharing the joys of singing, travel, rocks and the Russian language are her passions.

Steve Weintraub
Big Steve, born in Brooklyn, New York, has been a Fort Collins resident for 36 years. A graduate of N.Y.U., he is happily married to group member Deni La Rue and loves to sing.
Rave Reviews

"Thanks again for a wonderful show yesterday! I know everyone had a good time and the comments were very favorable. Nice job. And I wanted to tell Art how much I enjoyed his ending message, very sweet and heartfelt. And I hope for than anything that you are having a very lovely birthday!!! Enjoy the celebration. Take care and thanks to your entire dedicated group of singers!"
- Kim Ferro
Aspen Club Specialist
Medical Center of the Rockies
...
Contact
Johnna to schedule a performance Johnna@sunnysidesingers.com
Sample Music
Please enjoy a sample of some of our favorite songs.